If you're looking for a low-cost way to spruce up your office, consider using window film. Decorative Window Film Ideas for Your Office are numerous and it's so easy to find a window film that complements the look and feel of your brand and business. Additionally, window film can help keep your office more private and secure.
Decorative window film can transform a room and be used in a variety of ways, and we've rounded up some examples of Decorative Window Film Ideas for Your Office here:
Gradient and Frosted Window Film
Patterned window films
Window decals and wall decals
Window film for aesthetic purposes
Custom graphics window film
Branded colors window film
Decorating Ideas for Your Office with Window Film
It's easy to personalize your office with decorative window film. Clear View Window Tint offers a variety of products that can help your business grow. It is possible to use decorative window film to personalize a space, increase privacy, or even assist in marketing and branding. Decorative window film and custom cut graphics are used in conjunction with Clear View's Clear Hue® custom products to give your space the unique look you desire! We came up with several ways to incorporate custom graphics and decorative window film into your workplace:

Gradient Window Film
Using window film with a gradient pattern is an excellent way to create a more private working environment. It is common for gradient window film to be opaque at one end and gradually clearer. Opaque window film can be applied to either the top or bottom of the glass or a custom gradient window film can be created. Gradient window film lets you see that people are in the room, but it obscures their identities and activities. This is ideal for rooms where you need a little extra privacy but also want a simple design that will last a long time.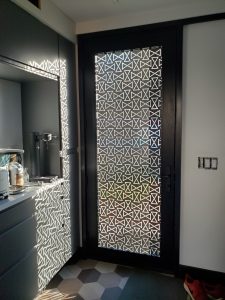 Patterns, Textured Window Films
For business meetings and even private offices, patterned window film is a great way to set the tone. So many options are available when it comes to patterned window film. Stripes can be wide, narrow, or even of varying widths and lengths. For a glass-walled room, they are excellent at masking what is going on. Employees will appreciate the classy approach taken by business owners. Try dots or a grid design if stripes don't suit your personal style. Patterned window film increases privacy and can be easily removed without damaging the glass surface, no matter what pattern or design you choose.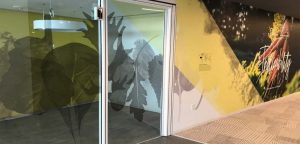 Window Decals and Wall Decals
Window graphics and wall graphics are other options if you don't want to go with stripes, dots, or gradients. When it comes to window and wall graphics, think of them as blank canvases on which you can paint whatever you want. Make your glass wall feel like a forest or a beach by putting up a forest scene or a beach scene, depending on your mood. Custom graphics allow you to design anything you can think of, and the results can be eye-catching.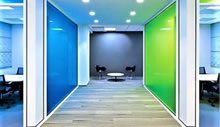 Window Film for Designer Purposes
Another option for your office's windows is decorative window film. Patterned window film and decorative window film are very similar. You can go with a more serious film or one that's a lot more fun. 3M Dichroic Blaze film is a unique product that you can try. A prismatic experience can be had in any room thanks to this product. This unique film appears to change color depending on the angle from which it is viewed. It's a fun way to liven up a dreary office space and add a dash of color. It's also possible to get single-color films in any color of the rainbow or plain frosted window films, which are more subdued but still make a statement in any room. If you're looking for a dynamic, eye-catching design, this is your best choice.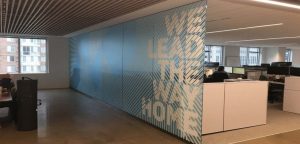 Printed window film with custom graphics
In addition to branding and advertising your business, window film can also be used for this purpose. Everything revolves around your company's logo! Consider adding your logo to a simple frosted window film design if you're in the market for privacy film. Those who come to your place of business will know exactly where they are and what services you offer. In addition, frosted window film can help to create a more calming and welcoming atmosphere. If you add some modern furniture and some nice indoor plants, you'll have a beautiful workspace that's ready for a lot of hard work.
Glass surfaces like the door of your business or windows facing a busy street can even be decorated with a custom-cut vinyl logo or frosted glass window film. Having your storefront's logo prominently displayed is a good idea for business owners who want to increase their brand's visibility and draw in new customers.
Clear View Window Tint of Virginia
The window film types listed above are all regularly installed by Clear View for our commercial clients. Clear View can help you find the perfect solution for your office, too! Give us a call or email us today to set up a free consultation.