Decorative glass films for office buildings are a cost-effective and straightforward method to add style or just a change of scenery. Decorative glass films are extremely adaptable; they provide complete design flexibility and are tailored to meet any need.
Decorative glass film ideas for offices
Decorative films offer architects, interior designers, and property owners a wide range of creative possibilities. Decorative window film can be used for a variety of purposes, such as:
Privacy is provided through glass treatments that integrate patterns and dimensional aspects.
Wall Treatments
Signage, product examples and information, logos, and more for business.
To add pattern, dimension, and warmth to your personal space.
Consider the following advantages of the decorative film when planning a residential or commercial project: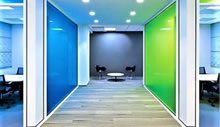 Various Design Options
Treatments for glass, walls and other surfaces are among the options available with decorative film. Graphics, colors, and textures are personalized to your installation to fit your home or company's design and functional requirements.
The decorative film, rather than clear uncoated glass or typical wall treatments, piques the imagination. You can make a design to give a room more depth and personality.
Stylish and budget-friendly
The decorative film gives the impression of luxury and gives any area a polished, professional appearance.
At a considerably cheaper cost, the decorative film can be used to produce a unique etched glass look. Decorative film is long-lasting but easy to remove.
Improves Privacy
Decorative film is ideal for adding seclusion to a glass interior surface while maintaining the space's light and open vibe. The decorative film, carefully positioned, provides privacy where it is most needed, such as on conference rooms and office walls. Choose from a wide range of designs, patterns, and colors available.
Three types of decorative glass that are popular in offices
Glass windows, doors, and walls allow more natural light to seep into and through a home, but they also mean that others can see into areas where you might desire more privacy. These popular decorative glass windows can help you with this.
Textured Glass Film
Textured glass has a design or pattern imprinted on it. It gives a decorative touch to the room by blurring pictures while letting light travel through. Textured glass is available in a variety of patterns. The chevron-like motif on the glass pane next to this entrance door matches the front gate. Textured glass may add to the charm of your spaces. It gives privacy while letting light in.
Laminated Decorative Glass  Film
For modular walls and separators and partitions in retail, personal care, workplace, and hotel environments, decorative laminated glass offers enhanced productivity, natural light, and soundproofing while maintaining unmatched beauty. This glass is a widely used material in commercial constructions because of its strength, durability, diversity, and high usefulness.
Tinted Glass Film
Tinted glass is an excellent choice for any doors or windows in your home or company if privacy is a top issue. Though tinted glass keeps prying eyes out, it nevertheless enables plenty of natural light to pass through while minimizing the glare from the sun. Tinted glass can also reduce the amount of damaging UV that gets through, which is good for everyone's health.
Choosing the Right Window Film for your Business
Decorative window films are one of the most popular types of window film. Aside from being in high demand, decorative glass film covers a wide range of applications (i.e., glass doors, walls, interior, and exterior windows). Below are four distinct types of decorative film for interior and exterior uses to highlight some of these different styles.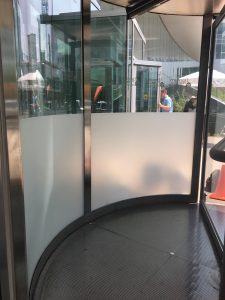 Frosted Window or Glass Film
Frosted glass film may give a veil of privacy while still allowing natural light to illuminate areas and is ideal for windows, glass walls, and doors. Frosted films are available in a variety of forms and provide limitless creative options. They can be partially or completely hidden and customized with different patterns, gradients, and unique designs. While they are frequently utilized to create private rooms in homes, offices, and other facilities, they can also be used to enhance the attractiveness of architectural and interior design styles.
Textured and Gradient Decorative Film
Gradient and textured decorative films can be an attractive and useful combination of progressive transitions and minimalist style. There is no hard and fast rule about which comes first: coverage or obvious sightlines. Textured and gradient window films make it simple to highlight the appealing elements of a place while concealing what has to be hidden.
Such decorative films are not only attractive alternatives to window blinds, shades, and curtains in your businesses, but they also allow for natural light and provide beautiful design options.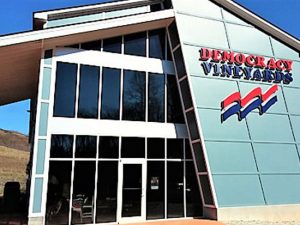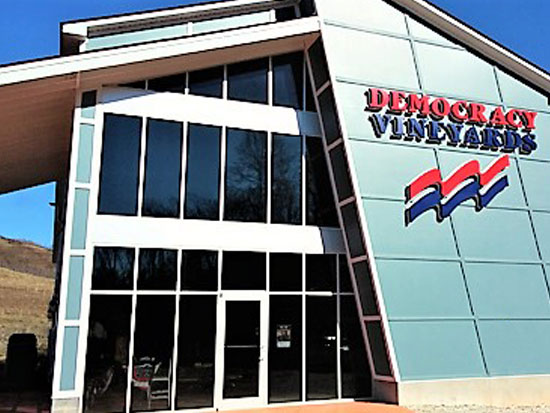 Architectural Window Film
Architectural films are a type of ornamental glass film that can be used for both decoration and functionality. Architectural window films offer the same energy-saving and UV-blocking benefits as sun control films but with more aesthetics and design options. Architectural films, which are mostly used in offices and commercial areas, may also lend character to the inside and outside of homes. Customers can use architectural films to create magnificent interior and external surroundings by combining distinct qualities and mood perspectives.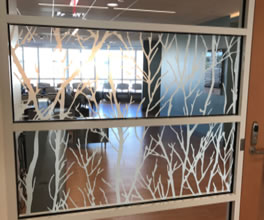 Vinyl Film with Perforations
Perforated vinyl film is ideal for custom and commercial applications, and it opens up a world of possibilities. The perforated film can be used for both short-term and long-term objectives, such as converting glass doors and windows into valuable advertising real estate or giving an enticing look to stores or restaurants.
Perforated vinyl film is a Decorative glass film for offices and is commonly used for storefront signage, window displays, promotions, and other visually centric applications. It can allow for one-way viewing from inside or be utilized to promote a business on storefront glass. Perforated films, which are truly decorative by nature, provide unique branding and marketing opportunities. Advertising and marketing agencies frequently collaborate with installation companies to bring campaigns to life, including eye-catching window graphics, displays, and other indoor and outdoor media.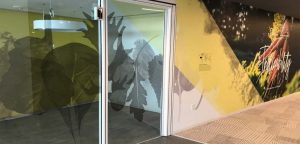 Custom Window Film
Everyone these days is searching for decorative glass film for offices that are fashionable and up-to-date. Home office interiors with an added touch make their homes more pleasing to the eye. Renovating your home office with sophisticated materials such as decorative glass is one of the best methods to accomplish a fresh new look. Doors, windows, flooring, ceilings, kitchen cabinets, shelves, tabletops, stairways, wardrobes, and other interior uses can all benefit from this type of glass.
Consider how a creative, custom and well-placed window film can turn a plain storefront into a head-turning marketing tool. Consider an office or retail space that has been revitalized with color, brand imagery, and other enticing designs. The possibilities are endless with decorative window and glass films.