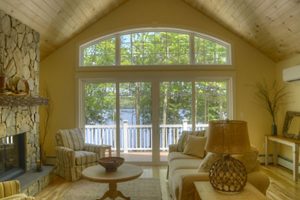 Window Tinting enhances the performance of your windows.
Thinking of replacing your windows?  Older single-pane or double-pane windows that have low-e performance and heat loss through the glass can be upgraded using window film the low-cost alternative to replacing windows.  Turn single-pane windows into the equivalent of double-pane windows, or double-pane windows into the equivalent of triple-pane windows.  Window film treatment applied to windows and glass surfaces are designed to reduce the amount of solar heat transmitted through the glass and increase safety and security.  Keep the heat out in the Summer and the heat in during the Winter for year-round energy savings and comfort.
The films help to increase solar reflectivity, reject solar heat and reduce incoming ultraviolet light, resulting in a wide range of benefits:
Improved comfort and energy savings
Increased fade protection and privacy
Reduced glare
Increased safety and security
Window tinting solutions have the advantage by offering solar control without an obstructed view. Unlike curtains or blinds that need to be closed to be effective, window films are designed to allow light in, help reduce heat and glare, and maintain your view, all at the same time. Window films can also help keep your building safer from break-in attempts without unsightly bars on the windows.
Clear View is a premier window film solutions company with 20+ years of experience, provides a vast selection of options for solving the needs of our residential and commercial customers.   Clear View offers the finest Window Film products from leading manufacturers, unsurpassed product knowledge, precision installation, with incomparable customer service.
When you choose Clear View, you're choosing peace of mind.  Schedule your Free Consultation to learn more about how Clear View can help.  Whether it's a residential or commercial solution, we'll find the right film for you. Consultations take about an hour and will leave you completely informed on what the films look like, the film performance, and cost.
Enjoy picture perfect views while blocking the suns glare and heat.