Why Install Window Tint on Commercial Buildings
Weather temperatures are increasing everywhere. This fact makes installing commercial window tint even more crucial. By installing window tint to your building windows, you are taking steps to immediately begin saving energy, reducing costs and sun glare.
More than ever, energy efficiency and cost reduction are at the forefront of many homeowners and business owners. The ability to reduce costs and increase energy efficiency has never been more important. When you install window tint, you are taking dramatic steps to a more pleasant,  energy-efficient environment.
Clear View using 3M™ Window Film can help your building improve on energy efficiency costs, improve overall aesthetic and increase the comfort level.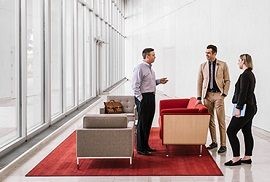 Top 5 Reasons to Install Window Film in Your Building
With 3M™ Window Film, your building will be fit—and you'll have it made in the shade with energy savings, reduced glare, increased safety, fade and ultraviolet protection, and more. Here's to a new year and like-new building with 3M™ Window Films. Contact Clear View Window Film Solutions to schedule a Free Consultation and we'll take care of the rest.