UV Window Film Installation Farmville VA
UV window film installation for Farmville, VA is a cost-effective way to protect your home from sun damage and improve the appearance of your windows. It helps block out 99% of UV rays, drastically reducing fading and cracking while also improving visibility through the glass. The process is quick, simple, and low-cost. If you're tired of dealing with glare and fading, it's time you added UV window film installation to your list of home improvement tasks this year!
Our UV window film installation team in Farmville Virginia is ready for your window and glass project needs. UV window film is a great option for homeowners who are looking to reduce their energy bills and preserve the value of their homes. In fact, studies have shown that if you install UV Protective Window Film on your home's windows, you can save on air conditioning costs. Call us today at (866) 712-0544 for more information and a free estimate about our UV window film services. We serve all of VA including Charlottesville, Henrico, Norfolk, Hampton Roads, Richmond and Northern VA.
UV Window Film for Farmville VA
Clear View Window Film Solutions sets the standard for home UV window tinting and window films for Farmville VA residents and businesses. We have a reputation as top installers for many of the best window film brands in the industry. UV window film installation can help your home or business reduce heat, increase the life of your furnishings, and reduce energy bills.
Reduce Harmful Effects Of UV Rays
Many Farmville VA homes have large windows to let in light year-round. With views so breathtaking and full of sun, however, it can be hard to not keep the curtains open. Carpets, fabrics, furnishings, and artwork can fade simply by allowing daylight to pass through an untreated window. With our UV-blocking window film, Clear View Window Film can apply a UV window film that blocks 99.9% of all UVA and UVB rays, helping to protect your family and preserve the color of your furnishings, fabrics, and carpets from discoloration and fading.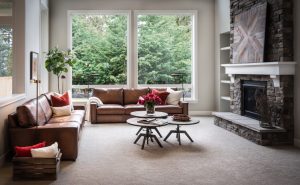 UV Window Film for Homes
Clearview Tint for Farmville VA is the premier UV window tint company for residential homes.  We use industry-leading window films for Virginia homes that save energy, improve comfort, increase safety, strengthen security, enhance interior design, and reduce the need for electrical lighting. Whether it is your primary residence or second home, we're here to help improve the environment of your home.
We professionally install using 3M, Clear Hue®, and Huper Optik window films, the highest quality window film in the industry. Our installers are professionally trained in the latest tools and techniques to deliver a superior installation for your home or business and are committed to the highest standards of quality and service for all our valued customers.
UV Window Film for Commercial Businesses
Lower Energy Costs with UV Tint for your Farmville VA commercial building. If employees, tenants, customers, and guests complain that rooms are too hot or too bright, consider installing 3M® Window Film for energy-saving and comfort. Our window film solutions will allow you to take control of providing a better environment for everyone. According to the DOE, 40% of heat loss in a commercial building is due to its windows!
Clear View installation of UV window film for your commercial business in Farmville VA supports year-round savings by helping to cool air during the summer and retain heat in the winter while letting in natural light. Take advantage of the potential savings that using 3M® Window Film offers building owners.
Top UV Window Tinting in Farmville, Virginia
Clear View Tint is Farmville Virginia's #1 UV window film and window tinting installation company. Our 5-star reviews and stellar customer feedback shows how proud we are to offer our customers quality work and excellent service. Our extensive line of products gives us the opportunity to provide products to suit every need. We have a professional quality product line to include, Clear Hue® decorative glass film, 3M window tinting, window and glass films, security and safety films, heat rejection window films, privacy tinting, decorative films, and UV window films.
Serving Charlottesville, Farmville, Henrico, Richmond, Roanoke, Staunton, Leesville, Lexington, Harrisonburg, Williamsburg, Newport News, Virginia Beach, and the surrounding Virginia cities and counties.
We specialize in high-quality residential, retail, and commercial window film for Virginia residents, as well as large commercial and government window tint installations. Our high-quality line of window films is backed by industry-leading warranty coverage and we have the largest selection of window films available, guaranteeing we have the right film for your needs. Contact us today for a free, no-obligation estimate.