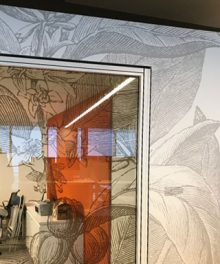 Decorative Window Film for Offices
We are the #1 provider of decorative window film in Charlottesville and Richmond VA.
Our decorative window films are the perfect solution for interior windows and glass walls. There is No Limit to Your Imagination. Transform your home, retail store or office, stand out from the crowd with a custom interior.
Decorative Window Film For Home
Add privacy and style to your home without sacrificing natural light. Ideal for foyers, entryways, partitions, shower doors, bathroom windows, verandas or other glass surfaces. Decorative Window Films are available in a variety of patterns from subtle to sophisticated design statements.
Decorative Window Film for Business
Customize your interior glass for your offices, retail store or business to create privacy, visual interest and promotional branding. Decorative Window Film transforms plain glass, capturing the look of cut or textured glass at a fraction of the price. With so many options in style, opacity and translucency, you can tailor the amount of privacy your design provides — without sacrificing natural light.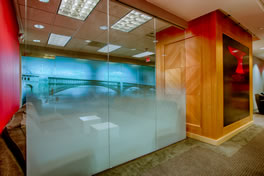 Privacy Glass Films
Transform any space. Provide the privacy, design or brand solution you need. Get the upscale look of expensive glass at a fraction of the cost – with literally hundreds of options. Tailor your designs without sacrificing natural light.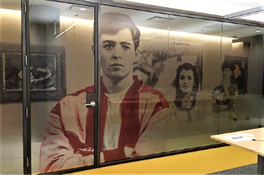 CLEAR HUE Custom Print Window Film
Change your environment – there is no limit to your imagination with our Clear Hue® line. Bring graphics, photos, or sketches to life and create an iconic focal point that all eyes are drawn to.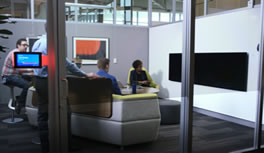 Casper Cloaking Technology by DesignTex
Work freely with peace of mind. Protect your data without compromising aesthetics. No more covering the meeting room windows with curtains, blinds, or even paper taped to the glass. Recommended for conference rooms, meeting rooms, and team studio areas. Anyone looking into the room from the outside sees just a black screen on the display, while everyone inside sees everything displayed. You have to see it to believe it.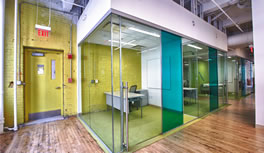 CLEAR HUE Clear Color Window Film
Transform plain glass. Color inspires people. Spice up your space by adding some Pizzazz. Colored Glass films are a collection of optically clear, high performance polyester decorative window films. Our colors are so much fun – add bands, a full coverage motif, or just add a splash of color here or there. Be creative and productive – colorize your business or home.